Aura
The Goddess of the Breeze
encaustic on birch 6 x 12
Aura was the goddess of the breeze and the fresh cool air of early morning. She has a sketchy history with the other gods and goddesses that turned her a bit mad - but I've chosen to portray her as a pleasant wind in the sails.
Speaking of wind in the sails - I've been on a bit of a break from the studio and also everyday life. No better way to do that than to get out of town. Hubs and I took off for 10 days away. I honestly think it was perfect timing as we both were feeling as if we had
lost
the wind in our sails. Work has been hard for Hubs and I've been painting like a mad woman with endless hours in the studio trying to prepare for the June show at the winery - I ended with 64 finished paintings - phew!

view from 8 Bells Winery
I'm a huge proponent of vacation. It never seems to be the right timing when it actually comes around - but if we ever waited for the right timing... I don't think we'd ever get out of town. So, I just book it anyway - its paid for, we're going and somehow regardless of timing - we make it work. And... it always refreshes the wind in the sails.
No better way to get sailing again than to participate in Summer of Color! Its in full swing - starting this week with Citron Green and Turquoise as our challenge. Looking forward to seeing what amazing creations come from this beautiful combination. Want to play along? Hit the button and join the fun.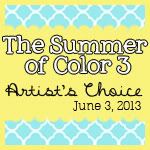 You can see my first attempts at the color combination
here
And.... its Friday!!