READY TO SWAP!
This is the second year for Liberate Your Art Postcard Swap hosted by Kat Sloma at
Kat Eye Studio
.
Kat got this great idea to combine launching art out into the world and receiving fun mail. This year there are over 300 participants which is more than double from last year. The idea is to pick 5 of your pieces of art, take a photo or a scan of it and have postcards made*. These postcards are then sent to Kat who collects 5 cards from each participant and a few other things like postage and self addressed mailing labels. She then redistributes them out into the world. I send 5, I get 5 different cards back in the mail throughout the month of August. You can see the wonderful collection that I received last year
HERE
. Its fun to get "real" mail and meet some new artists out there in the world.
When I wrote this last night, I thought there was still time to join in the fun. But, I am sorry to say that the swap entry has closed for this time. I'm a little late with my promotional post - shame. You can sign up for Kat's newsletter so that you can be informed of the next event as well as all the fun things that Kat has going on in her Studio. Follow along here and there will be links to the artist's websites for the cards that I receive as well as a blog hop in the end to celebrate Liberating our Art.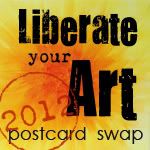 *I made my postcards at
Costco Photo Center
online. They took about 4 days to come in the mail to me. There are other online options such as
Moo.com